2nd Annual Fall Festival of the Arts
September 30, 2016 @ 7:00 pm

-

October 2, 2016 @ 5:00 pm

We are excited to present the 2nd annual Fall Festival of the Arts in celebration of our Artist Community and the West Columbia Gorge!  
Join the Celebration with activities on 3 days:  
9/30, 10/1, & 10/2  
VOLUNTEERS NEEDED! CLICK BUTTON BELOW.
9/30 Friday at 7pm:  Mt. Hood Community College Theater:  Join us as the Portland Columbia Symphony performs a concert with music by John Williams.  The last piece of music will be "Witches of Eastwick" and Brad Lorang will create a Painting (brushstrokes to music) as it is being performed.  Enjoy a bit of Wine and Dessert (yum, Chocolate) while you view some additional pieces of art in our Silent Auction.  These additional pieces of art are from local artists inspired by another concert piece provided by The Portland Columbia Symphony.  How are they all "inspired" by the same piece but have different ideas?  Cost $35.00 per person (Seniors & Students $30.00)
10/1 Saturday 11:00 am-5:00 pm:  Glenn Otto Park in Troutdale: The Festival fun continues at the Glenn Otto Park with over 40 Artists in the park…featuring: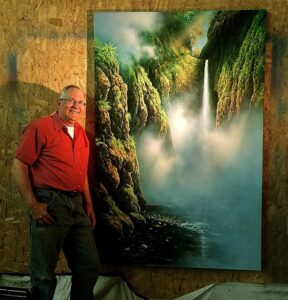 Illuminations of the Columbia Gorge by Renowned Artist Gary Fenske (see GaryFenskenewsrelease), Pavilions, Artists, Food  & Beverages, and Music Northwest!
10/1 Saturday 5:30 pm: Dinner & Theater at the Yoshida Ballroom:  After the park closes,  250 lucky guests will join together to have Dinner & Theater at the Yoshida Ballroom located on the Yoshida Estate in Troutdale (across from Riverview Restaurant, 29311 SE Stark St, Troutdale, OR 97060).  Starting at 5:30 for cocktails with time to view the Silent Auction and visit before Dinner starts at 6:00 pm.  At 7:00pm the exciting Pulitzer winning Comedy ART will begin.  Produced by our local & well-known Actor/Director Tobias Anderson ART–A wonderful comedy about "ART"–a must see! Cost is $65.00 per person & tickets are limited so call today, #503-669-7473!
10/2 Sunday 11:00am-5:00pm: Glenn Otto Park in Troutdale: return to Glenn Otto Park and the Galleries of Troutdale to visit the Artists, Pavilions, and the local Galleries that have exciting creations.  At "HIGH NOON"- 1:30 pm join the fun of a QUICK DRAW by invited artists.  They will have 90 minutes to create a special piece of art and you will get to watch the process and creativity.  Bid boxes will be available while they are working to start the bidding!  At 1:30 we will move into the Sam Cox building for the live Auction of these exciting and created pieces.   The live auction starting bid will be from the bid boxes so plan to be there and not miss your special piece of art.  Share some Wine with Artists and have fun!  The auction will end about 3:30pm leaving an hour or so for you to return to visit the artists in the park to get that one piece you have not yet purchased!  The park and event closes at 5:00 pm culminating a fun-filled weekend of Artists…another local industry within the West Columbia Gorge Chamber of Commerce.
Do not miss a moment of the excitement in support of our local community & artists!